Online Compliance Training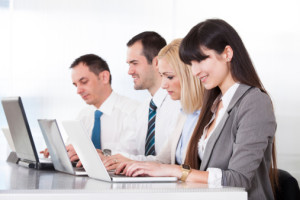 HIPAA requires that employers provide their employees training on HIPAA.  This training not only makes employees aware of their personal responsibilties under HIPAA but also teaches them how to help your organization safeguard protected health information under HIPAA.
The HIPAA training courses below meet or exceed the federal requirements for HIPAA Training.
With our partner HIPAATraining.com, we provide two HIPAA training courses:
HIPAA Awareness Training (for all staff members)
HIPAA Security Training (for the compliance officer and IT staff who will be responsible for implementing and maintaining HIPAA Security)
Each course is 1.5 hours long, tests each individual, and upon completion provides a professional 2 year certificate of completion.
Our training system also maintains a training log for you for compliance record keeping.
Best of all the training is self paced and online and can be taken from work or from the convenience of one's home.
To find out more information on the HIPAA Training solutions that we offer click here or contact us.